Information
What are Copaïba's specialities ?
What are Copaïba's specialities ?
Copaïba develops products mainly based on vegetable oils and essential oils which are sometimes inaccurately called 'natural cosmetics'. In our laboratory, we specialize in developing subtle and refined scents based on essential oils, along with very popular cosmetics, rich and sensual to the touch.
Conversely, we don't focus our energies on developing cosmetics for the mass-market with products whose only attraction is their price.
How much does the product development cost ?
How much does the product development cost ?
There is no point in pretending that our work is not highly complex. It can take a great many hours to develop a product and this reality more than justifies our corresponding fee.
However, if the goals are well explained by the client at the outset, the basic ingredients are understood, and no major changes are made along the way, it is quite possible to develop a formula for a reasonable cost. This cost becomes even more reasonable in light of the number of products which will be manufactured according to the formula, and then later sold.
A product with a consistent and clear focus generally requires less research than one with different targets. This is why we emphasize product consistency, which serves our customer's budget in the launch of his cosmetic line. On the other hand, a consultancy may not always answer every issue and we can sometimes only solve one aspect of the product, leaving the customer total freedom to take care of the rest. In our experience, some technically simple formulas have given remarkable results once manufactured and sold, but were made ​​for very modest sums.
Is it possible to get a preliminary estimate ?
Is it possible to get a preliminary estimate ?
Of course ! During the first interview or the first meetings, an estimate of the cost of research is presented for the different stages of production. The amount will be approximate, but it generally provides a realistic enough range to discuss all the aspects of the project with our client.
We can then go on to establish an offer in a solid form, repeating step by step all the areas discussed in order to leave no ambiguity and clearly outline the scope and limitations of our work. This offer will then be sent to our client for acceptance and he can verify in detail that his desires will be taken into account throughout the formulation.
Our offers are generally firm, meaning that we set a price equivalent to the anticipated work required for the project. Ideally, the estimated price will not be exceeded, even if the work turns out to be more complicated than expected. However, if our customer opts for a job board, we try to keep him informed of the status of his accounts on a daily basis. When we work in this way, there are never any unpleasant surprises at the end of formulation.
How long does formulation take ?
How long does formulation take ?
It usually takes a few weeks; the time needed to let the imagination take control, fulfill the client's particular needs, develop the formulas and make the samples. However, it is always dangerous to venture hastily into a formulation as often the choice of ingredients is inherent to their cost and availability, and specific producers sometimes take several weeks to be found. The eagerness to introduce an ingredient into a formula without first ensuring its accessibility and price implies the risk that the ingredient in question might not be available at the time of manufacture, the quantity required too great for the available supply, or the cost excessive. This situation could lead to a complete change in the formula, thus ruining a large part of the work agreed in advance.
Similarly, changing a client's objectives has generally proven painful in terms of time. For example, moving from an available, well-documented plant extract as defined in the original project, to another extremely rare type can require several days of work. To edit the specification is never trivial, because we can very often end up in an awkward position in many aspects of the jointly developed project if irreconcilable technical elements suddenly become manifest. These could demand an almost complete overhaul of formulas, and of course require a new study and new quote. A well planned and carefully monitored project is clearly one that can conclude quickly and economically!
What are the guarantees provided by Copaïba ?
What are the guarantees provided by Copaïba ?
It would be foolish as well as pretentious to say that we provide a full unlimited warranty during the development process of our formulas. However, we work in such a way that we take every conceivable step to ensure that our client is properly informed about what his product contains, and to which laws and regulations it is subject. We do try to anticipate problems, and ways to address them.
Most importantly, we try to keep a balance between the necessary research to provide our customer with a formula of which we can be proud, and the total cost - related to the time and resources needed to invest in this project - reasonable in relation to the final goal.
Do the formulas remain confidential ?
Do the formulas remain confidential ?
It is obvious that the formulas for our customers remain completely confidential, as well as the characteristics of the products we have developed for them. We also prohibit ourselves from using these formulas for ourselves, or in the case of a consultancy, for others. Our clients have complete and unquestionable guarantees that their products are, and will remain, unique.
Once the formula is in hand, what do we do ?
Once the formula is in hand, what do we do ?
A formula contains all the details that a manufacturer of cosmetics familiar with modern ingredients can produce without any difficulty. Copaïba is of course at his disposal for any clarification he deems necessary.
Of course, Copaïba fabrications & ingredients will be very pleased to manufacture its customer's products, but there is obligation for the customer to select us for this part of the process.
Do you have some references ?
Do you have some references ?
Our clients have come from many different backgrounds. For some, we have worked on large projects, while for others we have offered only our expertise, but we are proud to have been able to gain the trust of all of our customers.
Some want to maintain complete confidentiality regarding their use of Copaïba Consultancy & Formulation and we certainly respect that choice. Others, however, are happy to claim that their products have been manufactured with the assistance of Copaïba's expertise…and we thank them for that.
Finally, to our delight and that of our customers, more than one project developed by Copaïba Consultancy & Formulation has been the recipient of an award. Mame Khary Diene received the Cartier Women's Initiative Award in 2008, with a prize of $20,000 for her Karistal range. One Life, at the International Congress of Applied Aesthetics - the largest aesthetic convention in the world – received the H. Price Pierantoni Innovation Award in 2008, and the SO range was distinguished in Focus Beyond Beauty Paris - the salon of brands and trends that reveals the changes in the beauty industry - in 2006.
Copaïba consultancy & formulation was pleased to lend its expertise in the following countries: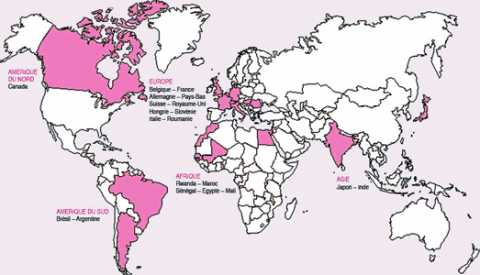 Why to develop your own cosmetics line with Copaïba consultancy & formulation ?
Why to develop your own cosmetics line with Copaïba consultancy & formulation ?
Indeed, why, when there is already a plethora of products as diverse as varied, just waiting to be bought and sold? Why spend time, energy, money in order to develop your own cosmetic product when you can just make a choice from those readily available?
We at Copaïba see a number of reasons:
1. To offer products that exactly meet your needs, desires, and choices
Copaïba Consultancy &Formulation listens to you. Your desires in terms of textures, ingredients and scents are heard, your expectations for quality, repute, eco-responsibility formulas are taken into account, and your choices at each stage of the formulation are determinants. You are therefore sure to obtain formulas that look exactly like what you have determined, independent from other suppliers or manufacturers.
2. To completely dominate a cost structure with margins
At the start of your consultation with Copaïba, the question of cost and margin is raised. You will control the costs of your products and their resale price without any contingency determined by any distributor. In a word, you are the master of your market.
3. To know exactly what you use, and what you offer your clients
Copaïba Consultancy & Formulation wants to make you partner of the work in progress. You receive at each step not only a technical report that explains the details of the options considered, critical choices, or formulas presented in samples, but also a wealth of information that many of our customers integrate into their marketing communication.
4. For the pleasure to imagine, build, and develop something that is exclusively yours
Formulation with Copaïba consultancy & formulation is built on the basis of your idea, and it is your project. The starting point will be respected at all times, and following mutual discussion will evolve into a final formula through your contributions, your choices, and your consent. At the end of the formulation, you will be assured of not only having a product developed by you - with input from Copaïba Consultancy & Formulation expertise - but one that is absolutely unique and exclusive.
5. To increase the assets of your business rather than squander them on costs
With Copaïba consultancy & formulation>, you become owner of your formulas. You are then free to exploit, sell, and patent freely. You have no royalty obligations to Copaïba and are free to choose your suppliers or manufacturers independently. In other words, you keep the value of your formulas in your business, rather than see them slowly eroded by each unit manufactured.
6. To have new concepts, currently unmatched on the market
If you have an original idea, a new concept, a need currently unmet by cosmetics on the market, Copaïba Consultancy & Formulation is the ideal partner. Together, we will build this formula, and you will have complete independence.
7. To enhance a raw material or know-how you have
Perhaps you want to restore an old formula, a grandmother's recipe of which you know the effectiveness or attractiveness, or you have an ingredient - a special vegetable oil, a soothing homeopathic solution, for instance, and you would like to benefit from its value rather than only through its bulk sale. Copaïba consultancy & formulation can work from these starting points, and transform them into cosmetics that meet your expectations.
8. To improve coherence, enhance your name and work without direct competition
You own a beauty salon, a spa, a guest house, a health food store. Offering a cosmetic line with your name, your logo and your colors spreads not only your reputation, but mostly illustrates the consistency of your expertise and your entrepreneurial spirit. In addition, you can decide independently where and how your care products will be distributed - and you will be assured of not finding what you are selling at your direct competitor.